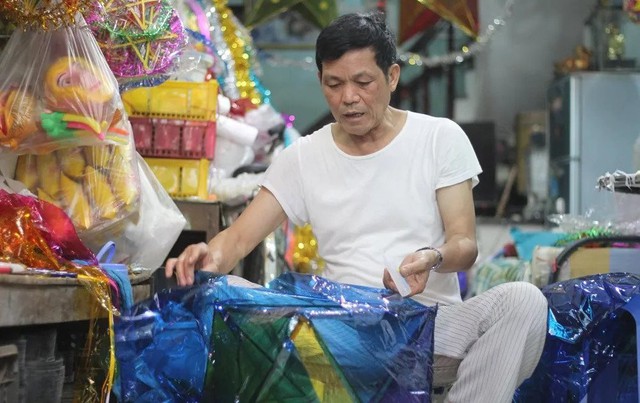 Huy is the only man in the central highland city of Pleiku, Gia Lai Province, working on this traditional craft which he has promised to preserve for the young generations.

"I don't know how many lanterns I have made through three decades. But I know that I can stay home and be friend with these materials -- bamboo, glazed and cellophane paper, and the trunks of jute trees -- all day long," said Huy.
"I am still doing this job because I love it. It is kind of my passion producing traditional toys and on the other hand I want to maintain the national typical culture for the kids," said the 68-year-old.
Huy had no idea of making Mid-Autumn festival lantern until 1992 when he decided to quit his job and opened a small shop at home.
He saw his wife selling many toys for children to welcome the Mid-Autumn festival but none of them was a traditional lantern.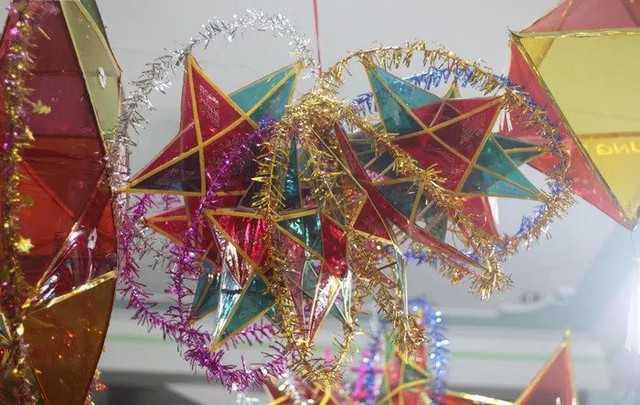 "I thought it was something wrong. Because when I was a little boy, my friends and I loved and were happy to have a star-shaped lantern. We were proud to have it parading around the village to celebrate the festival," said Huy who decided to make several ones.
"I bought materials, designed and made the lanterns in different sizes and put on store shelf for sale. Surprisingly, children really loved my lanterns and I received great feedback from them."
Since then Huy has attached his life with the new career.
His small house in these days is decorated with colorful and eye-catching lanterns while he is busy with many details to do to complete orders for his customers.
From the small sizes at first, Huy is now master in the craft. He can produce big lanterns of 1.6m in diameter and make shapes of different animals such as carps, roosters, and flowers and boats.
Sometimes candles can be placed inside the lanterns to offer a surprising amount of light.
"There are different steps in making a lantern. It requires the craftsman's patience, meticulousness and focus," said Huy.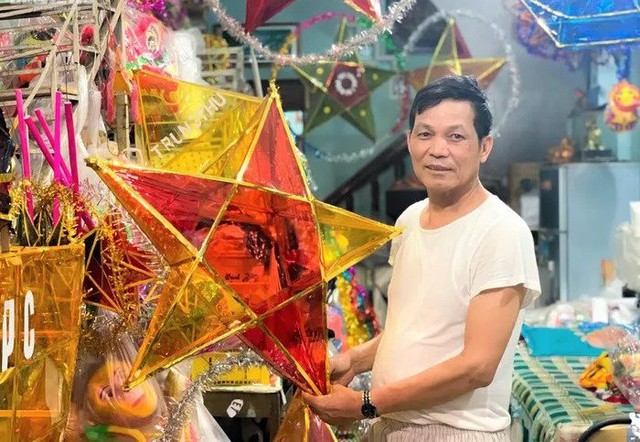 He said he began his work from early sixth lunar month but materials must be prepared several months ago. It was to make sure his lanterns could reach the children in schools and living quarters in time.
His has to do many detailed and complex stages, from splitting bamboo, cutting frames, making lamp bones, rolling handles to patterning and painting colours on the cellophane paper... to make a complete lantern.
Bamboo to make lanterns must be old bamboo soaked in salt water for days to prevent termites, then dried, broaching, depending on the size of each type of lamp.
"The most difficult step is setting the frame of the lantern. The beauty of the product is based on the frame which must be balanced and sturdy."
The frame is then covered with colourful glazed papers which are cut into six requisite parts of a star. Each part is glued onto the frame carefully to avoid any peeling.
In the next step, the star is decorated with yellow saw-toothed ribbons, and is encircled with a thin yellow bamboo frame. Huy finally affix a jute handle to make the frame taut and set the lanterns out to dry.
Every step of the process is made by hand and craftsman Huy had to work from dusk to dawn because of the full moon festival.
"Not only passion but also creativity is needed to make a beautiful lantern," said Huy can make up to 200 products per season with the price ranging from VND10,000 to VND1 million (US$0.42-42).
"Lanterns are the most popular toy and also the traditional symbol of the Mid-Autumn festival. Through this game, children will learn more about traditional Vietnamese culture," said Huy.
"Many people also believe that star-shaped lantern lights way to the future for their kids. It is the reason why this locally-made products still win the hearts of many customers."
Huy said the imported toys in a host of colours, designs and sizes have flooded the market in recent years, traditional toys therefore faced at risk of fading away.
But his family continues to practice the traditional craft which not only supports his daily life but also brings meaningful presents to the children.
"Despite many challenges, I am happy to see more and more people come to me for the traditional lanterns every year. It is a strong push for me to maintain and develop this craft, a typical cultural identity of Viet Nam, for the next generations," Huy said./.