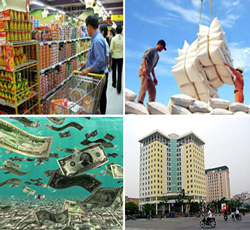 Illustration photo
The industry and construction had the highest growth rate of 5.65% against the same period last year. The value of the agro-forestry and fisheries sector jumped by 3.45%. Meanwhile, the service sector surged 6.64% on year-on-year basis.
Noticeably, the amount of FDI disbursement stood at around US $2.5 billion in the first three months and US $900 million in April. Hence, the total FDI disbursement in the first four months reached US $3.4 billion, up 36% against the same period last year. The figures, according to economists, are relatively high amidst the global economic recession.
These positive outcomes vividly illustrate the sound policies of the Government to timely respond to fluctuations in both foreign and domestic markets, ensure high consensus and bolster close coordination among the Government, agencies, enterprises and people.
Seven percent GDP growth rate is within reach
Việt Nam's impressive achievements have been widely appreciated by international economic experts. Lately, Ms. Prakriti Sofat, a regional economist at the Barclays Capital, forecasted that the Vietnamese economy would grow 7% in 2010.
According to the economist, the high domestic demand, the boom in the real estate market and the inflows of FDI and profits from exports are attributed to Việt Nam's story.
By Kim Loan