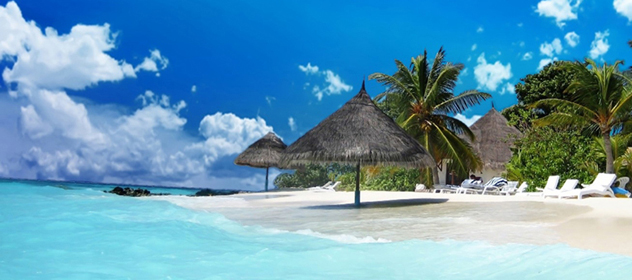 Illustration photo

Endowed with wild and natural beauty
Phu Quoc island has two seasons, the dry season from November to April and the rainy season from May to October. The average temperature on Phu Quoc is 28 degrees Celsius, allowing visitors to enjoy the island's beauty at any time of the year.
The island features pristine tropical forests, undamaged coral reefs and great beaches. One of its beaches, named Bai Dai (Long Beach), was chosen by the ABC News as one of five beautiful and clean beaches. Phu Quoc is famous for producing the best nuoc mam or fermented fish sauce in the world.
Phu Quoc National Park is one of most the attractive places in the district. The park is covered with lush green foliage and tropical flowers, and boasts the natural resources of both jungle and sea.
The park is home to 929 plant species, of which 42 are listed in the Vietnamese and world red books of endangered species. The buffer and development zones also have a diverse marine ecosystem.
For this reason, Phu Quoc has always attracted a large number of domestic and international visitors. It has recently been recommended as one of the top three best winter trips in 2014 by the renowned US National Geographic Magazine.
Improved infrastructure
In a bid to boost socio-economic development of the island, an international airport was officially put into operation in December 2012, which can handled 2.65 million passengers a year.
On February 2, Phu Quoc was connected to the national electricity grid for the first time after the Southern Power Corp (EVN SPC) completed the installation stages of the submarine power cable system that transfers electricity from the mainland to the island.
Government's determination
With favorable natural conditions, in 2004, the Government decided to develop Phu Quoc into a tourism center of regional and international stature.
In May 2013, PM Nguyen Tan Dung decided to set up Phu Quoc Economic Zone (EZ) which covers the entire area of the island district of Phu Quoc, including Duong Dong and An Thoi towns, and the eight communes of Cua Can, Ganh Dau, Bai Thom, Ham Ninh, Cua Duong, Duong To, Tho Chau and Hon Thon.
The 58,923-hectare zone is divided into a non-tariff section, which includes An Thoi Port and Phu Quoc Airport, and a duty section, which covers the remaining areas.
The tariff section will provide tourism, services, port logistics, and include an industrial area, urban and residential zones, an administrative section, and more.
Four months later, the Ministry of Culture, Sports and Tourism approved the Project on developing sea, island and coastal tourism through 2020. Under the project, the Ministry plans to build six world-class tourist sites, including Phu Quoc.
To give a stronger boost for the island, PM Dung signed Decision No. 80/2013/QD-TTg on some specific policies for Phu Quoc. Accordingly, foreigners or Vietnamese holding foreign passports who visit Phu Quoc will enjoy exemption for entry, exit, and transit visas up to 30 days instead of the current 15 days.
The new visa policy will be also applied to foreigners or Vietnamese holding foreign passports who transit at any airport or seaport on their way to Phu Quoc .
Investors will be granted most favorable policies in accordance with Decree No. 29/2008/ND-CP issuing regulations on industrial zones, export processing zones and economic zones./.
By Hai Minh