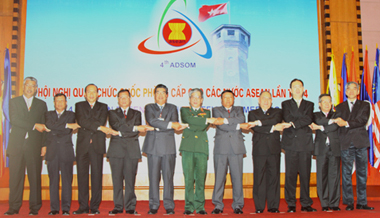 ASEAN defense senior officials shake hands with each other at the ADSOM-4, Hà Nội, April 28, 2010 – Photo: ADMM-2010
Presiding over the ADSOM–4, Lieutenant General Nguyễn Chí Vinh, Vietnamese Deputy Minister of National Defense, affirmed that defense meetings, including ADSOM, are an indispensable component for the formation of the ASEAN Security-Political Community by 2015. The meetings also serve to lift the security-political cooperation within ASEAN as well as between the bloc and outside partners to a new height for sustained peace and prosperity.
Dr. Tormsak Chalermpalanupap, Special Assistant to the ASEAN General Secretary, treasured the security cooperation among ASEAN member states to build a prosperous and developed ASEAN Community.
In the new context, it is necessary for ASEAN to continue strengthening internal relations and enhancing cooperative ties and dialogues with external partners in the interest of peace, stability and development in the region and the world.
At the ADSOM-4, participants listened to preliminary documents of the ADMM-4, including an agenda and a draft joint statement.
ASEAN defense senior officials voiced their advocacy for Việt Nam to host the first meetings between ASEAN and their partners' defense ministers (ADMM ).
By Kim Anh