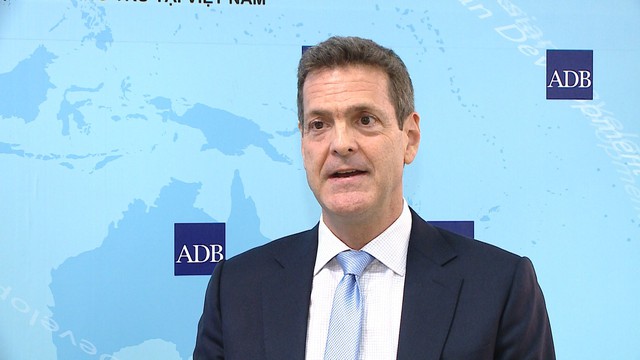 Mr. Andrew Jeffries, Country Director of the ADB in Viet Nam made the above statement in his recent interview with the VGP.
Despite some of the risks from the global economic shocks going on in various parts of the world, Viet Nam's economy expanded 8.02 percent in 2022.
Exports, services and domestic tourism have all been strong in 2022. Inflation rate was below the Government's 4 percent target for the year. However, exports started slowing down. In addition, the Viet Nam Dong has depreciated about 9 percent so far this year.
As Viet Nam's GDP growth is strong, the inflation and other factors affecting Viet Nam's economy are much less severe than what is going on in neighboring countries and other nations around the region.
Viet Nam raised policy rates two times and widened the band for the Viet Nam Dong to fluctuate against the U.S. dollar, said Andrew Jeffries, adding that they have been the Government's beneficially prudent.
Viet Nam's public debt-to-GDP ratio was 43 percent, which is relatively low and so this has made Viet Nam stable compared to many other countries.


Mr. Andrew Jeffries, Country Director of the Asian Development Bank (ADB) in Viet Nam refers to opportunities for Viet Nam's economy in 2023
FDI interest in Viet Nam is very positive in longer-term view
In its Asian Development Outlook (ADO) 2022 Supplement released on December 14, the growth forecast for 2023 was adjusted down from 6.7 percent to 6.3 percent as major trade partners weaken.
Meanwhile, the ADB Country Director emphasized that there is no reason why growth cannot remain robust in Viet Nam.
Opportunities include very strong foreign direction investment (FDI) numbers regardless what is happening around the world and the risks of economic slowdowns in the U.S., China and Europe.
"FDI interest in Viet Nam which is taking a longer-term view is very positive so I think that is something that everyone should keep in mind when thinking about Viet Nam", noted Andrew Jeffries.
With the strong interest in FDI in Viet Nam, especially compared to neighboring countries within ASEAN and in the region, there is overall vote of confidence for the long-term for Viet Nam.
According to the ADB Country Director, Viet Nam's digital economy is projected to grow by 9 percent per year over the next 4-5 years. Thus, there is not only interest in FDI for manufacturing and exporting, there is also some IT related companies interested in setting up businesses in Viet Nam.
Business process outsourcing which has been very active in other countries is beginning to emerge in Viet Nam so there are some new opportunities that diversify the FDI away from just manufacturing.
Other opportunities are the stable political environment in Viet Nam and the stable macro-economic environment that the government has been able to maintain.
Regarding challenges for Viet Nam in 2023, the global slowdown and the rising interest rate environment around the world is a particular challenge for everyone not just Viet Nam.
The country is facing a very important challenge to manage is the risk of non-performing loans in the banking sector given there was a period of forbearance during the COVID-19 pandemic that has to be reviewed and unwound over time.
Andrew Jeffries referred to another concern is that a lot of Viet Nam's manufacturing and exports rely on importing of semi-finished components for final assembly and re-exporting abroad.
A big challenge for Viet Nam is how to capture more of that supply chain onshore by local companies rather than having to import it, he added.