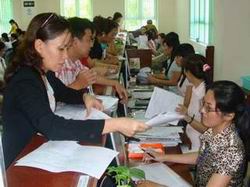 Enterprises submit their social insurance

According to Decision 611/QĐ-TTg recently signed by the PM, among the collecting budget of VND 90 trillion, VND 49,663 billion must come from compulsory social insurance, VND 167 billion from voluntary insurance, VND 3,804 billion from unemployment insurance, VND 26,292 billion from health insurance and VND 10,000 billion from benefits of financial investment activities.

Meanwhile, the estimated spending of VND 56 trillion will cover compulsory social insurance (VND 36,062 billion), voluntary insurance (VND 40 billion), unemployment insurance (VND 460 billion), health insurance (VND 17,837 billion), management activities (VND 1,579 billion), and capital construction (VND 265 billion).

In 2009, the VSI was entrusted to collect VND 56,636 billion and spend VND 42,582 billion.

By the end of 2009, at least 53.3 million people purchased health insurance, accounting for 62.2% of the country's population, of which 13.8 million were volunteers.