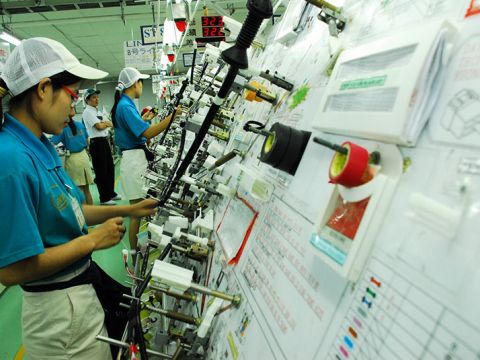 Illustration photo
Thirty businesses have registered to participate in the program so far, including 15 enterprises which want to open new factories in Viet Nam.
In addition to exporting, Japanese goods are produced in Viet Nam in the process of supply chain expansion which will also serve the domestic market.
However, in addition to advantage of low-cost labor, Viet Nam also needs to create more advantages as well as improve localization rate and develop its supporting industry.
The commercial flights between Japan and Viet Nam have not been resumed due to the Covid-19 pandemic which is expected to significantly impact on the investment process, especially some businesses involved in diversification plans of supply chain in Viet Nam.
Chief Representative of the Japan External Trade Organization (JETRO) in Ha Noi Takeo Nakajima emphasized that the Japanese manufacturers want to diversify their supply chains into other countries, but not completely shift their factories from Japan to other countries.
Viet Nam has proven to remain an attractive investment destination for Japanese enterprises thanks to the numerous Japanese-speaking workers.
With a population of 95 million people along with improvement in living standard, Viet Nam is expected to quickly become an attractive business market.
Bloomberg said the Japaneses goverment would start paying some companies to move factories out of China back to their home country or to Southeast Asia.
In addition, Nikkei also confirmed that the Japanese government would pay a total of 70 billion Japanese yen (US$653 million) for eighty-seven companies or groups to move production lines.
Thirty of these will receive money for investments in Southeast Asia including Viet Nam, Myanmar, Thailand and others.
Viet Nam is considered an ideal destination for attracting foreign direct investment after the country has controlled the novel coronavirus (COVID -19) pandemic. The country has gone through more than three months without locally transmitted infections.
By Vien Nhu