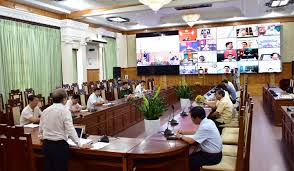 Online medical consultations are regularly organized to help local-level doctors treat critical and serious patients.
Of these, five patients have been admitted to Hue General Hospital after receiving treatment at the Da Nang Hospital. The Hue-based hospital is treating 18 cases, said Luong Ngoc Khue, Associate Professor, deputy head of the Sub-committee for COVID-19 prevention and treatment.
Eight others are being treated at the Da Nang Hospital (which is handling 27 COVID-19 patients), Da Nang Hospital for Lung Diseases, HCMC Hospital for Tropical Diseases, and Quang Nam General Hospital.
Besides 13 critically ill patients, 21 others are struggling with deteriorating health conditions, Khue added.
As of 6:02 pm on August 3, Viet Nam confirmed 642 COVID-19 cases, including 374 recoveries and six fatalities.
Of the patient tally, 195 community transmission cases of COVID-19 have been confirmed over the last 10 days, all linked to the COVID-19 outbreak in Da Nang.
Noticeably, up to 23% of the recent COVID-19 patients are asymptomatic.
The country has mobilized experienced doctors to treat critical patients who are mainly the elderly with complicated chronic diseases. All disease symptoms must be closely monitored and managed by the Administration Center for COVID-19 diagnosis and treatment under the Department of Disease Management.
Khue asked medical facilities to keep a close watch on the disease outbreak in order to detect suspected cases as soon as possible.
Earlier, Acting Minister of Health Nguyen Thanh Long reported that the ministry deployed the ever biggest number of experienced medical workers of various professions such as intensive care, artificial kidney and heart from Bach Mai Hospital, Cho Ray Hospital, and HCMC Hospital for Tropical Diseases to Da Nang. Especially, the Bach Mai Hospital sent 40 leading professors and doctors to the central city./.