WB ready to support public-private partnership in VN 
VGP – The World Bank (WB) stands ready to back Vietnamese efforts to formulate a institutional framework and train staff for the realization of public-private partnership (PPP), said a high-ranking WB official.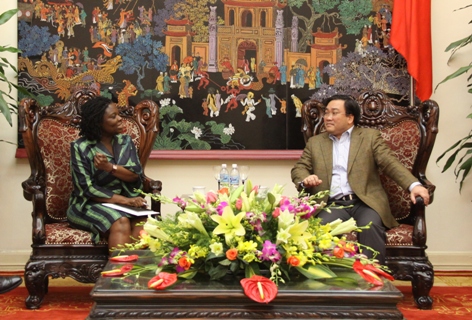 Deputy PM Hoàng Trung Hải (R) receives WB Country Director Victoria Kwakwa, Hà Nội, November 23, 2009 – Photo: VGP
WB Country Director Victoria Kwakwa made the statement while meeting Vietnamese Deputy PM Hoàng Trung Hải on November 23 in Hà Nội.
Over the past two years, through policy-making assistance, WB and Vietnamese partners have mapped out specific regulations on PPP, so as to create a solid foundation for mobilizing private resources for social investment projects.
The WB hopes that the policy framework for PPP will be completed and submitted to the Government for ratification in 2010, said Ms. Victoria Kwakwa.
Deputy PM Hoàng Trung Hải expressed his gratitude to the institution's supports to the Vietnamese Government in making PPP-related policies and realizing pilot investment projects.
He stressed that the PPP policy framework should be simple and easy for application.
It was reported that the WB and the Ministry of Planning and Investment on November 24 would host a meeting on PPP establishment in Việt Nam
By Khánh Phương