Vietnamese, Cuban news agencies strengthen cooperation
VGP – General Director of the Viet Nam News Agency (VNA) Vu Viet Trang and President of the Prensa Latina (PL) news agency of Cuba, Luis Enrique Gonzalez Acosta, signed a new cooperation agreement during their talks in Havana on April 19 (Cuba time).
April 22, 2023 4:44 PM GMT+7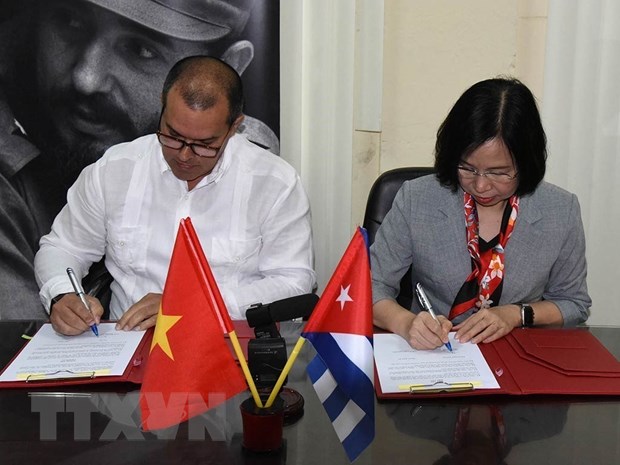 The event took place within the framework of the ongoing official visit to the Caribbean nation by National Assembly Chairman Vuong Dinh Hue.
The VNA leader highlighted the cooperation achievements between the two news agencies over the past nearly six decades and congratulated the PL on its new developments. She stressed that continued cooperation with new projects was essential and matched global development trends.
For his part, Gonzalez Acosta thanked the VNA for its support in all aspects since the two news agencies established their cooperative ties, noting that it would have been difficult for the PL to fulfil its tasks without the assistance amid the severe economic embargo against Cuba.
Gonzalez Acosta affirmed his further support to the VNA's representative office in Havana in all necessary activities and in improving the quality of the Spanish version of the agency's Viet Nam Pictorial.
At the meeting, the two sides reviewed the implementation of bilateral cooperation programmes in information exchange, the publication of Viet Nam Pictorial, expert exchange and support to each other's correspondents.
They shared the view on the importance of bilateral cooperation, which provided the people of the two countries with diverse information and their socio-economic-political situation, thus enhancing understanding and traditional friendship between Viet Nam and Cuba.
Notably, PL's experts have helped the VNA effectively produce information in Spanish, training young sub-editors and publishing the Spanish edition of Viet Nam Pictorial in Latin America.
To contribute to consolidating the Viet-Nam-Cuba traditional friendship and celebrating the 50th anniversary of Cuban leader Fidel Castro Ruz's visit to Viet Nam (September 1973), the two sides agreed to coordinate in organizing photo exhibitions in both countries.
The VNA leader invited the PL chief to visit Viet Nam for the celebration. Besides, the VNA presented its Cuban counterpart with specialized equipment to help the PL meet development requirements in the digital age./.