Viet Nam, U.S. hold defense policy dialogue
VGP - Deputy Minister of National Defense Hoang Xuan Chien and Assistant Secretary of Defense for Indo-Pacific Security Affairs of the U.S. Dr. Ely Ratner co-chaired the Viet Nam – U.S. defense policy dialogue in Ha Noi on September 12.
September 12, 2022 9:02 PM GMT+7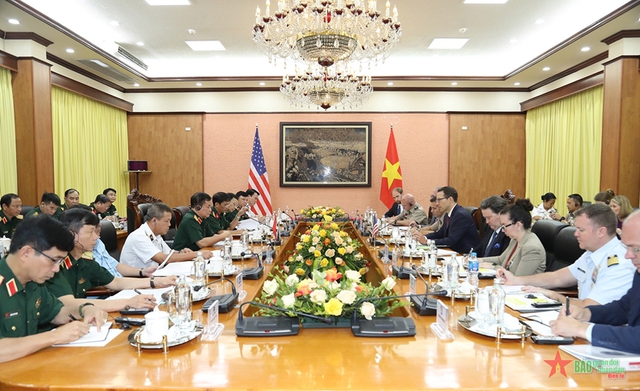 The two sides discussed international and regional issues of shared interest, assessed defense cooperation, and looked into preparations for the 10th anniversary of Viet Nam-U.S. comprehensive partnership (2013-2023).
The two sides highly appreciated the efforts and results achieved in the fields of bilateral cooperation, especially in overcoming the post-war consequences, including the U.S.-funded project on dioxin contamination remediation at Bien Hoa Airport in the southern province of Dong Nai, the project to support people with disabilities in areas heavily sprayed with Agent Orange, bombs and mines clearance, and search for the remains of the U.S. soldiers missing in action during the war.
Both countries have cooperated in UN peace keeping mission, disaster relief, humanitarian assistance, military medicine, capacity building for the Viet Nam Coast Guard.
The two sides also discussed consultations and cooperation on fields of mutual concerns including the promotion of the role of ADMM+.
The American side shared information on Vietnamese soldiers who died in the war.
On November 24, 2020, the Viet Nam-US defense policy dialogue was held in virtual format under the co-chairmanship of Vietnamese Deputy Defense Minister Senior Lieutenant General Hoang Xuan Chien, and David F. Helvey, Acting Assistant Secretary of Defense of the U.S.
The dialogue was suspended in 2021 due to the COVID-19 pandemic/.