Viet Nam may start production of COVID-19 vaccines next month
VGP – If things go smoothly, Viet Nam may be able to start production of COVID-19 vaccines from September, said Prime Minister Pham Minh Chinh.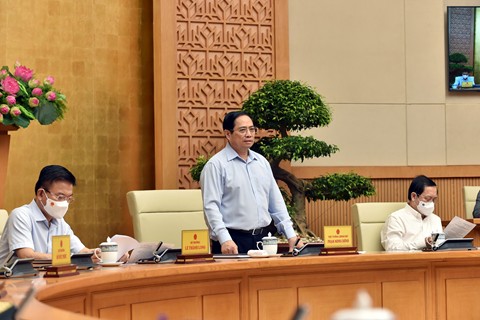 Prime Minister Pham Minh Chinh chairs a meeting with scientists and vaccine manufacturers, Government Office, Ha Noi, August 12, 2021 - Photo: VGP
Pham made the above statement at a working session with scientist and vaccine manufacturers on Thursday.
He reiterated the Government's unwavering resolve to translate its vaccine strategy into reality in all three pillars [purchase and import of vaccines, transfer of production technology, and domestic research and production of homegrown vaccines] in order to secure sufficient vaccines as much and as soon as possible.
The PM tasked relevant agencies to tighten collaboration in an active manner to remove all administrative barriers in the implementation of the strategy.
He also emphasized that the best vaccine is the vaccine that one can get the soonest as there is wait-and-see attitude on vaccines.
According to the Ministry of Health, two out of four domestic vaccine candidates under different phases of human trials are Nanocovax and Covivac.
Nanocovax, currently in phase 3 of human trials, is the most promising candidate among four domestic vaccines. Last Monday, the Ministry of Health asked Nanogen Pharmaceutical Biotechnology Joint Stock Company – the manufacturer of the Nanocovax vaccine – to submit its report on phase 2 and phase 3 clinical trial research data to the ministry prior to August 15.
Based on the report, the National Ethnic Council and the Council for Consultancy and Licensing of Medical Devices under the Ministry of Health will consider an approval for emergency use of Nanocovax in Viet Nam.
According to Nanogen, Nanocovax's immunogenicity reached 99.4 per cent, equally to those of other COVID-19 vaccines licensed in the world.
On transfer of production technology, three Vietnamese companies have approached and negotiated technology transfer deals with foreign vaccine producers in the U.S., Japan, and Russia.
Viet Nam has approved six COVID-19 vaccines for emergency use, namely Janssen, Moderna, Sputnik V, Pfizer, Sinopharm and AstraZeneca.
To date, the Southeast Asian country has received a total of 18 million doses of COVID-19 vaccines and is expected to get additional 9.3 million doses in late August and September.
In addition, around 60 million vaccine doses are scheduled to land in the country in the last quarter of 2021. At that time, domestic vaccine will complete clinical trial process.
As of late August 11, 12,098,821 vaccine doses were administered, with 1,092,700 people fully vaccinated./.
By Thuy Dung