Three recovered COVID-19 patients tested positive again
VGP - Three more COVID-19 patients, who recovered and exited hospitals, have tested positive again, the Steering Committee for COVID-19 Prevention and Control said Monday morning.
April 27, 2020 7:18 PM GMT+7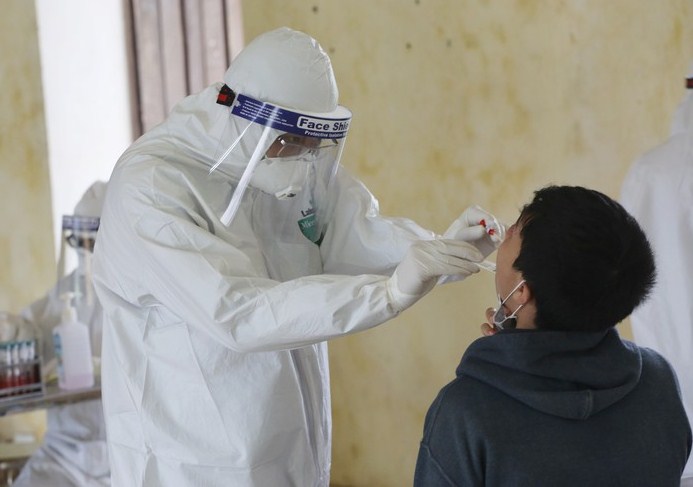 A health worker takes samples for COVID-19 test at a centralized quarantine camp
They include one Vietnamese and two Brazillian nationals, raising the total number of such cases in Viet Nam to eight.
Patient 74 is a 23-year old male student residing in Lam Thao District of the northern province of Phu Tho, who returned from France on March 18.
Upon his arrival, the showed symptoms of cough, fever and shortness of breath and was sent to Bac Ninh General Hospital for treatment.
He was released from the hospital on April 10 after being tested negative for the virus twice and continued to isolate himself at home.
After 14-day home isloation, he was tested again on April 25 and was then taken to the National Hospital for Tropical Diseases in Ha Noi's Dong Anh District as medical staff suspected he was positive again.
The other cases are patients numbered 207 and 224 who were released from the Cu Chi field hospital in Ho Chi Minh City on April 18 and April 20 respectively.
Patient 207 is a 49-year old Brazillian man who was retested positive for the virus on April 25. Meanhile patient 224 is a 39-year old Brazillian man was retested positve for the virus on April 23.
At present, the pair are being treated at the Cu Chi field hospital.
On March 25, the Steering Committee also said the first five patients, who recovered from COVID-19, have tested positive again. These patients are numbered 36, 52, 136, 149, and 188.
So far, Viet Nam confirmed 270 COVID-19 infection cases with no fatalities./.
By Huong Giang