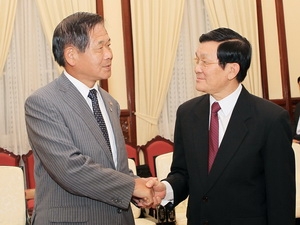 State President Trương Tấn Sang (R) and Chairman of Japan's Osaka Chamber of Commerce and Industry Sato Shigetaka, Hà Nội, October 6, 2011 – Photo: VNA
President of Japan's Keihan Railway Group Sato Shigetaka informed the host of the pace of the survey of the high speed Hà Nội-Hoa Lac railway route that Japan is speeding up.
He said with hi-tech application experiences, Japanese businesses will continue cooperate with Vietnamese companies in various fields, particularly railway.
Mr. Sato said he hoped Việt Nam will open more international air routes to Osaka, develop marine routes connecting Osaka and Việt Nam's central sea ports, improve industrial zone service quality and facilitate Japanese businesses' investment in the country.
State President Sang highlighted the rapid development of the Việt Nam-Japan strategic partnership and experiences and technology of the Keihan group, saying he hoped the group will make active contributions to Việt Nam's infrastructure development, particularly its urban transport.
Mr. Sang took the occasion to welcome the efforts of the Osaka Chamber of Commerce and Industry to encourage its member businesses to accept Vietnamese trainees.
He said he believed Sato's visit will pave the way for building Japanese hi-tech industrial parks in Việt Nam.
Việt Nam creates all favorable conditions for the successful operation of Japanese businesses, President Sang said./.