PM urges drastic reduction of logistics costs
VGP – PM Nguyen Xuan Phuc stressed the need to drastically reduce the transport logistics costs, which, he said, would help to enhance the competitiveness of both businesses and the whole economy.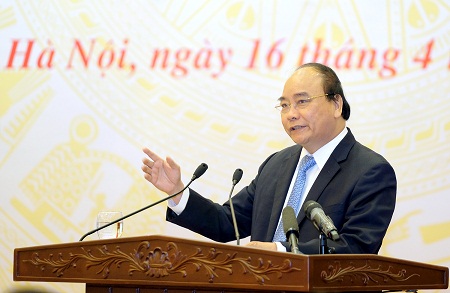 Photo: VGP
Addressing a national videoconference on logistics in Ha Noi on April 16, the Government leader highlighted the goal of increasing the share of the logistics service sector in the gross domestic product (GDP) by 8-10%, assigning an array of tasks to ministries and sectors, especially the Transport Ministry, including the building of the PM's Directive, in order to develop Viet Nam's logistics sector on par with the regional and world levels.
PM Phuc cited the World Bank's statistics showing that Viet Nam's logistic costs are equivalent to nearly 21% of the GDP, with the transport costs accounting for up to 60%, in comparison to just 19% in China, 18% in Thailand, 11% in Japan, and 10% in the European Union (EU) countries.
He emphasized that the cost burden is the biggest barrier to Vietnamese companies at present, with the high logistic costs affecting the competitiveness of the economy. In that spirit, the PM asked the leaders of ministries and localities to be fully aware of the functions of the logistics industry, which are not only the delivery, reception, and freight of goods, but also include warehousing, storage, packaging, rotation, and handling of damaged goods.
He insisted that participants focus their discussion on removing the legal and policy barriers with the optimal goal of reducing transport costs for businesses. He stressed the need for specific action programs to improve the competitiveness and develop logistic services in each sector, especially the transport, and industry and trade sectors, with the five major task groups, including the finalization of policies on logistics services, the completion of logistics infrastructure, the enhancement of firms' capabilities and service quality, the development of the logistics service market, and the enhancement of the human resource quality.
Logistics companies should proactively apply modern science and technology in order to improve competitiveness, increase the quality of services, and reduce the service costs, PM Phuc suggested.
By Vien Nhu