PM attends VN-Cambodia investment conference
VGP – PM Nguyen Tan Dung and his Cambodian counterpart Hun Sen attended the 4th Viet Nam-Cambodia Investment Promotion Conference in Phnom Penh, Cambodia on January 13.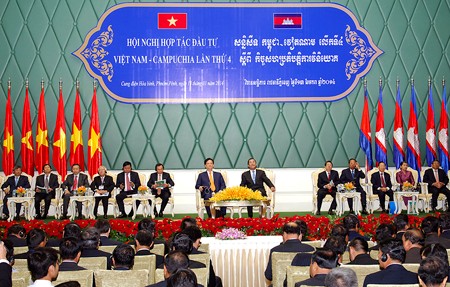 The 4th Viet Nam-Cambodia Investment Promotion Conference, Phnom Penh, January 13 - Photo: VGP
The event creates a chance for the two sides to evaluate economic, investment and trade cooperation and discuss measures to promote their cooperation further in the future.
As of the end of 2013, Viet Nam has invested in Cambodia an amount of more than US$3 billion in 127 projects, ranking fifth among the investors in Cambodia.
The country's investment has focussed on agriculture, forestry, energy, finance, banking, insurance and telecommunication.
The two countries's two-way trade turnover fetched a record high of US$3.2 billion in 2012. Viet Nam exports oil and gas, garments, machines, chemical substances and fertilizer and imports rubber, timber and tobacco materials from Cambodia.
Vietnamese businesses have poured US$35 million in social security programs in Cambodia.
At the event, Vietnamese enterprises proposed the two Governments connect the two economies before 2015 and issue long-term and specific policies for projects along the border to guarantee border security.
The two sides' ministries and agencies are required to cooperate in checking valid agreements and legal documents regularly to promptly amend and supplement them properly, launch the Agreement on Encouragement and Reciprocal Protection of Investments and sign an Anti-Double Taxation Agreement.
PM Dung revealed that the Vietnamese Government proposed solutions to support foreign businesses operating in Viet Nam, hoping that the Cambodian ministries and agencies will assist Vietnamese businesses investing in Cambodia.
He suggested the two sides maintain dialogues between the two Governments' agencies and expand the agreements on rubber tree plantation.
PM Dung expected that the two nations will work closely together to raise their bilateral trade turnover to US$5 billion by 2015.
Cambodian PM Hun Sen called on Vietnamese enterprises to invest in the processing of food and agricultural products in Cambodia.
Cambodia always supports projects invested by Vietnamese businesses, he asserted, adding that Cambodia will improve its business environment./.
By Thuy Dung