Over 12,000 volunteers to get second doses of Nano Covax COVID-19 vaccine
VGP – About 12,000 second doses of Nano Covax vaccline will be administered to volunteers from July 27 to August 14, according to the Military Medical University under the Ministry of National Defense.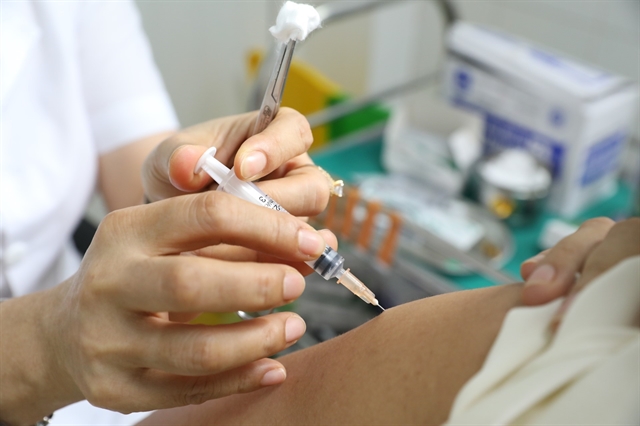 Illustration photo
They are among 13,000 volunteers of the phase 3 human trials of the first domestically developed COVID-19 vaccine.
So far, over 1,000 first volunteers of the third-phase trials had received their second dose of the homegrown COVID-19 in its third phase of human trials.
Prof. Dr. Maj. Gen. Hoang Van Luong, Deputy Director of the university was quoted as saying that the volunteers were at stable conditions. There had been no significant adverse reactions.
The volunteers were asked to update information regarding any side effects they might experience on an e-Diary.
They will have had their blood tested for the presence of antibodies to the SARS-CoV-2 virus on July 22. The blood collection will be finalized on August 3.
Mr. Hoang added that medical evaluations on the volunteers before and after the shots will be analyzed and reported to the Ministry of Health on August 15.
Nano Covax is developed by the Nanogen Pharmaceutical Biotechnology JSC based on recombinant DNA/protein technology. It began first-phase trials last December and second phase trials in this February.
The Ministry of Health and the National Council of Ethics in Biomedical Research on June 25 agreed with the Pasteur Institute in Ho Chi Minh City and the Military Medical University to speed up the third-phase clinical trial of the homegrown COVID-19 vaccine in which volunteers were expected to have received the first jab by July 15 and the second shot by August 15.
If the results of the phase three trials are positive and Nano Covax is given emergency approval from the National Biomedicine Ethics Council, the vaccine could be ready for large scale distribution as early as November./.
By Khanh Phuong