No new COVID-19 infection case reported over last six days
VGP - Viet Nam has gone 6 days without new COVID-19 infection case and more patients will exit hospitals Wednesday after recovery, reported the Steering Committee for COVID-19 Prevention and Control.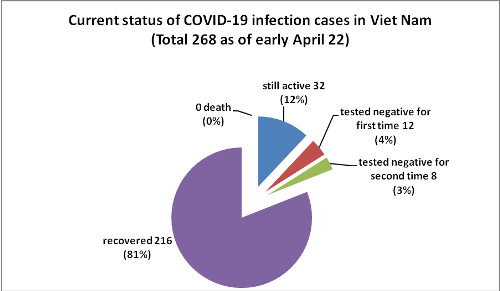 Among 268 COVID-19 infection cases in Viet Nam, 216 recover their health and exit hospitals, accounting for 81%.
The nation's patient tally remained unchanged at 268 and the number of recovered patients reached 216, or 81% as of 6 am on Wednesday.
As the situation is getting better, the Government will consider easing containment the same day in a bid to mitigate negative impacts of the COVID-19 outbreaks./.
By Thuy Dung