New visions in vocational training for peasants
VGP – Deputy PM, Minister of Training and Education Nguyễn Thiện Nhân on Wednesday chaired a video-conference with localities nationwide to discuss the realization of the Government's Project on vocational training for peasants until 2020.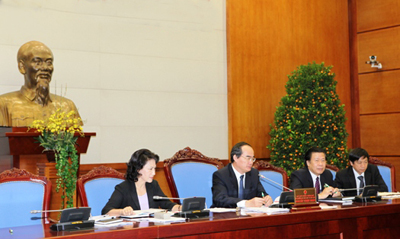 Deputy PM, Minister of Education and Training Nguyễn Thiện Nhân (2nd from left) presides over a video-conference on the implementation of the Government's Project on vocational training for peasants until 2020, Hà Nội, February 3, 2010 – Photo: VGP/Từ Lương


Vocational skills have long been provided to peasants in Việt Nam but with the Project, many new measures will be combined to improve the training quality.

Generally, the project mainly centers on calculating the business community's labor demand first.

Deputy PM Nhân asked localities to report on preliminary estimates of short-term job-training demand, at least in the period of 2010-2011.

By the end of April this year, regional-level meetings will be organized to exchange results and share experience.

Each locality needs to identify its own occupational demand, trainees' demand, and training capacity (including vocational training centers and their current status) to map out necessary improvement plans, said Mr. Nhân.

He asked the relevant ministries to actively engage in the implementation of the Project by providing help to localities in fulfilling the set missions.

Under the Project, around 8,000 peasants are expected to be trained in vocational courses for some 30 occupations in the next two years, said Deputy Minister of Agriculture and Rural Development Đào Xuân Học.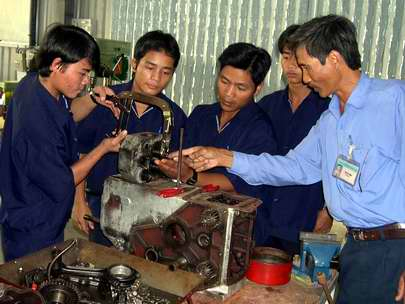 First trainees at the Kon Tum Vocational Center in the Central Highlands province of Kon Tum
Short-term curricula for 25 occupations in 2010 are already available for peasants directly engaging in agricultural production and related economic-technical services.
Showing their agreement to the solutions, participants to the video-conference were all determined to join efforts with relevant agencies in realizing the Project