It is sure ASEAN does not want to take sides, says PM Phuc
VGP – ASEAN always expects peace, stability, prosperity and cooperation for mutual development in Asia-Pacific and it is sure that the bloc does not want to take sides, said Prime Minister Nguyen Xuan Phuc.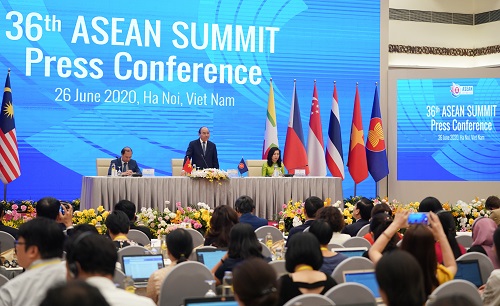 Prime Minister Nguyen Xuan Phuc (standing) chairs press conference following the 36th ASEAN Summit on June 26, 2020. Photo: VGP
Phuc made the above statement in response to Channel News Asia's questions on how tensions between the US and China have affected ASEAN and what the regional countries should do to overcome the COVID-19 pandemic, at the press conference following the 36th ASEAN Summit on Friday.
China and the US are top partners of countries around the world, including ASEAN member States, thus the China-US relations would produce global-scale impacts, according to Phuc.
ASEAN has maintained various cooperation frameworks with China and the US at both bilateral and multilateral aspects, which lay solid foundations for consolidating and strengthening the bloc's cooperation with the two leading economies, he added.
COVID-19 pandemic containment and economic recovery are the major and shared tasks of the international community, thus Viet Nam hopes China and the US will work together to promote common denominator and overcome divergences to build trust and accelerate cooperation in the interests of the region and the world.
As the ASEAN Chair, Viet Nam is working with other ASEAN member States to implement a master plan for post-pandemic economic recovery. From that perspective, the bloc is focusing on promoting ASEAN solidarity and centrality as well as meetings with China and the US to seek ways to curb the pandemic and maintain trade exchanges in favor of regional and international economic revitalization.
Regarding a question from AP report on how COVID-19 pandemic has affected Viet Nam's ASEAN Chairmanship agenda, PM Phuc emphasized that peace, security and stability in the region in general and the East Sea in particuarly remain the common interests of the international community. Therefore, ASEAN has made great endevors over the past time to sustain dialogue and foster cooperation towards the formulation of a Code of Conduct in the East Sea (COC).
During the 36th ASEAN Summit, the leaders reaffirmed ASEAN's determination to contribute to develop the East Sea into the sea of cooperation, development, security and safety./.
By Quang Minh