HCM City's urban administration resolution passed
VGP – The National Assembly voted on a resolution on urban administration model in Ho Chi Minh City on Monday during the ongoing 10th session of the 14th National Assembly.
November 16, 2020 11:23 AM GMT+7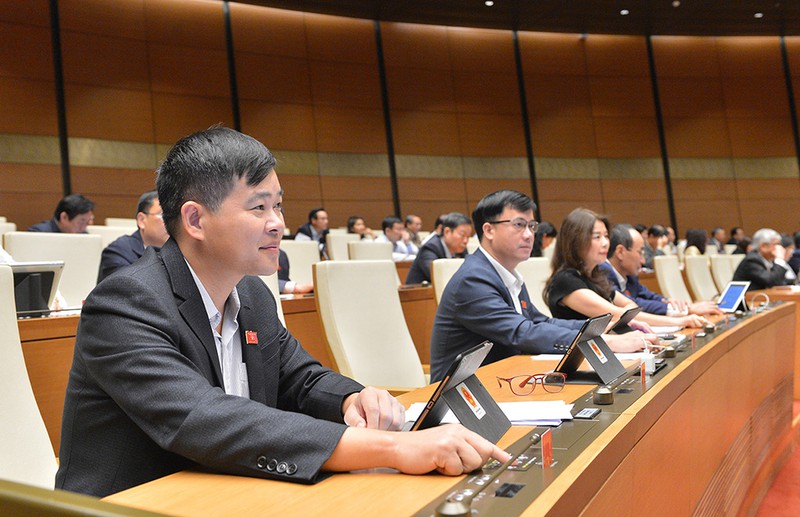 Lawmakers press buttons to pass the resolution on urban administration model in Ho Chi Minh City
Specifically, the resolution was passed with 420 deputies, or 87.14%, voting in favor.
Under the resolution, the administration system in HCM City consists of the municipal People's Council and People's Committee, and the district- and ward-level People's Committees. The higher-level people's committees and their leaders are in charge of delegating tasks for the lower-level ones.
The organization of other administrative units in the city complies with the Law on Local Administration Organization.
The resolution shall take effect from January 1 in 2021. The organization of the urban administration will enforce from July 1, 2021.
HCMC is a special urban city, serving as a driving force for the southern economic region. The city houses about 10 million residents, contributing one quarter of national GDP.
Hence, the Resolution aims to support Ho Chi Minh City in improving the effectiveness and efficiency of its present state administrative units, and allow local governments to bring about an effective and functional administrative system in its place.
The Resolution offers a clear plan for Ho Chi Minh City to become a major center of culture, education, e-commerce and human resource training, science and technology, and a modern-day new generation model of urban e-governance on par with any developed country.
Already in the last few years, Ho Chi Minh City had started to decentralize the district administration into separate areas of housing, fee collection, documentation in births and deaths, and licensing of services, to better serve the local population. This process initially brought in many advantages for the people. However, it also provided a platform for local officials to misuse power, and harass and intimidate people. Officials made their own rules in the collection of market fees, pavement fees, real estate measurement fees, online study of children fees, which all made it very difficult for the local people.
Since the People's Committees in wards and districts have much high-yielding power as well as access to the local budget, this was difficult to counter or avoid. Hence, to do away with such bureaucracy, the Resolution will work towards the removal of district and ward level People's Councils. This move will make it easier for the implementation of future plans at the local level, and will also distribute power to smaller functional units./.
By Kim Anh