Gov't resolved to clear corruption cases
VGP – Prime Minister Nguyễn Tấn Dũng urged relevant agencies to accelerate the settlement of remaining complicated corruption cases in the second half of 2011.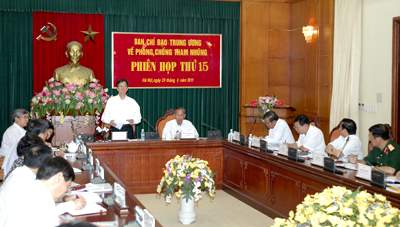 The meeting of the central steering committee for corruption prevention, Hà Nội, June 29, 2011 - Photo: VGP
The Government chief made the request on Wednesday at a meeting of the central steering committee for corruption prevention to review the work in the first six months of this year.
He pointed out that the fight against corruption, to some extent, has not been paid adequate attention, leading to prolonged settlement of corruption cases.
PM Dũng asked relevant agencies to identify reasons behind the slow handling of these cases and at the same time speed up administrative reform, consolidate and enhance the capacity of the anti-corruption steering sub-committees at ministerial and local levels.
He also called for stronger investigation and inspection, particularly in areas that are fertile for corruption and wrong-doings.
Report shows that in the first half of 2011, anti-corruption work made progressive results in terms of prevention, detection and settlement of corruption cases.
The Government Inspectorate conducted 25 inspections at a number of State-owned-enterprises as well as commercial banks' interest rate assistance, according to the report.
These inspections found financial misuse of VND 1.915 billion.
Ministerial and local agencies launched some 4,032 inspections, with 2,457 completed.
The report also says that most serious corruption cases are under investigation or put into trial.
Vinashin case
Regarding the debt-ridden Vinashin case, the Ministry of Public Security came up with initial results of 10-month investigation on the group's wrong-doings.
PM Dũng re-affirmed the Government's strong determination to make things black and white there, vowing that all offended organizations and individuals will be put into trials.
He also affirmed the country's consistent policy to build a strong ship-building industry by restructuring Vinashin.
By Hải Minh