First country introduces mandatory health declaration to prevent COVID-19
VGP – Viet Nam is the first country in the world to apply mandatory health declaration to all incoming travellers in an early and drastic manner in order to contain the COVID-19 pandemic, said Deputy Prime Minister Vu Duc Dam.
June 13, 2020 9:33 PM GMT+7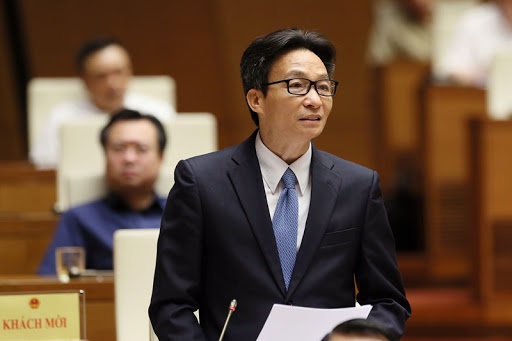 Deputy Prime Minister Vu Duc Dam, Chairman of the National Committee for COVID-19 Prevention and Control speaks at the working session of the National Assembly on June 13, 2020. Photo: VGP
Dam, who is the Chairman of the National Committee for COVID-19 Prevention and Control, made the above statement Saturday at the ongoing working session of the National Assembly.
The measure has proved to be effective, thus the total costs for the COVID-19 fight is much lower compared to other countries, Deputy PM Dam added.
Thanks to a string of early and drastic measures, the COVID-19 patient tally is relative low, standing at 334 as of 6pm on June 13, of whom 194 imported cases while the recovery rate rose to 96.7% (323). The country has gone 58 days without new COVID-19 community infection.
Viet Nam ranks 155 out of 214 countries and territories in terms of the number of infection cases and is one of 30 countries and territories without a single fatality, Dam said.
More importantly, life has returned to normal, which is a dream of many countries around the world.
Meanwhile, 7.7 million people contracted the virus around the world, including 428,000 deaths. In the last 24 hours alone, there were more than 300,000 new infection cases.
On behalf of the Prime Minister and the National Steering Committee, Deputy PM Dam extended thanks to people from all walks of life and front line forces who have made tireless efforts to curbing the pandemic.
They include doctors and soldiers who worked days and nights regardless of the weather conditions and the elderly and children who donate their savings to the COVID-19 response fund.
Thousands of businesses, despite mountain of difficulties caused by the pandemic, have tried not to dismiss workers while thousands of reporters plunged into COVID-19 epicenters and treatment facilities to get up-to-date information, making significant contributions to consolidate the society's consensus and support for the fight against the pandemic./.
By Thuy Dung