Deputy PM, FM Minh holds phone talks with U.S. Secretary of State
VGP – Deputy Prime Minister, Foreign Minister Pham Binh Minh held phone talks with U.S. Secretary of State Michael Richard Pompeo on Wednesday.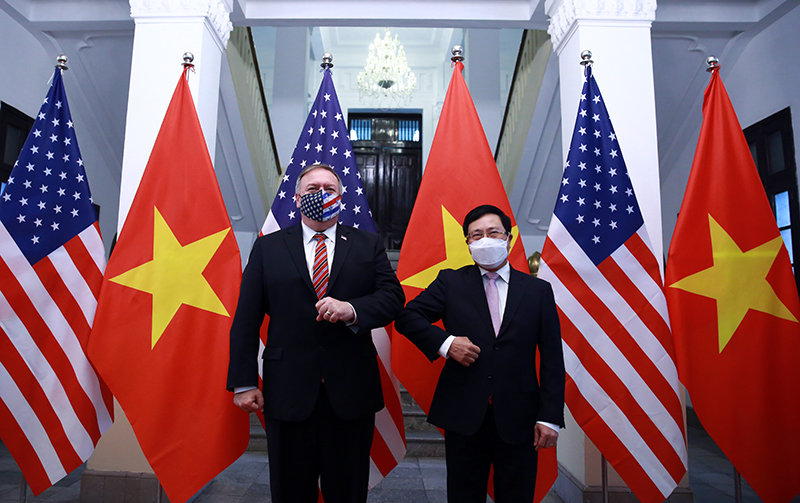 Deputy Prime Minister and Foreign Minister Pham Binh Minh (right) welcomes US. Secretary of State Michael Richard Pompeo at the Headquarters of the Ministry of Foreign Affairs, Ha Noi, October 30, 2020. Photo: VGP
Both Minh and Pompeo highly valued the close collaboration between the two countries' foreign ministries over the past time, contributing to sustaining and accelerating the growth momentum of the Viet Nam-U.S. Comprehensive Partnership across all fields.
The two sides welcomed the joint efforts to organize various activities to mark the 25th anniversary of the establishment of diplomatic relations between Viet Nam and the U.S.
They agreed to foster bilateral cooperation on the basis of respect for each other's independence, sovereignty, territorial integrity and political systems so as to make practical contribution to peace, security, cooperation and development in the region and the world.
On the occasion, Minh and Pompeo compared notes on the U.S. Trade Representative's ongoing investigation of Viet Nam's monetary policy and timber materials in accordance with Article 301 of the Trade Act of 1974.
Minh affirmed that Vietnamese ministries and agencies will continue working proactively with the American side to comprehensively resolve the concerns of the U.S. and Viet Nam, thus maintaining stable, harmonious, sustainable and mutually beneficial trade ties.
Meanwhile, Pompeo highly valued bilateral exchanges over the issue, reaffirming that the U.S. treasures and pledges to maintain stable relationship with Viet Nam and supports a strong, independent, prosperous Viet Nam with an increasingly rising role in the region.
Earlier on December 22, 2020, Prime Minister Nguyen Xuan Phuc had a phone conversation with President Donald Trump to discuss on bilateral cooperation, including the monetary and timber issues.
The Vietnamese Government chief affirmed that Viet Nam, as a developing country with limited economic capacity, has pursued a monetary policy in favor of inflation control and macro-economic stabilization.
The monetary policy has not been designed to gain competitive edges in international trade, Phuc affirmed./.
Hải Minh
Follow us on Twitter @VNGovtPortal and Facebook page @VNGov