Conference held to promote VN-US ICT cooperation
VGP - A conference to stimulate trade and investment in information and communication technology (ICT) products and services in Việt Nam was held by the Vietnamese Ministry of Information and Communications (MIC) and the US Department of Commerce on May 12 in Hà Nội.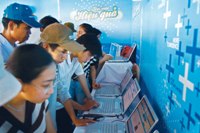 Illustration photo

The two sides discussed the current situations and orientations to develop ICT sector in Việt Nam in the coming years, the US' existing ICT policies, as well as programs to hold related conferences, establish a Việt Nam-US ICT business portal, support human resource training and technical investment, and develop ICT services.

Việt Nam welcomes ICT multinationals to invest in ICT projects here to create a more dynamic ICT market, Deputy Minister of Information and Communications Nguyễn Minh Hồng said, adding that almost all US ICT groups are doing business well in Việt Nam.

The US-Việt Nam Information and Communications Technologies Commercial Dialogue, kick-started in December 2007, has brought in considerable achievements. Several conferences on developing human resources and new technologies have been implemented, said Ms. Cora Dickson from the US Department.

Vietnamese and US businesses, such as VNPT, Viettel, FPT, VDC, Microsoft, Motorola, IBM, and Intel, have implemented several ICT cooperation projects. The US has become Việt Nam's most potential market in, software and digital content outsourcing and export, according to the MIC.