2009: A profitable year for foreign banks in VN
VGP – Although the global financial and banking sector faced with numerous challenges this year, foreign credit institutions and banks have still operated fruitfully in Viêt Nam and served to bridge foreign investors with the domestic market and business community.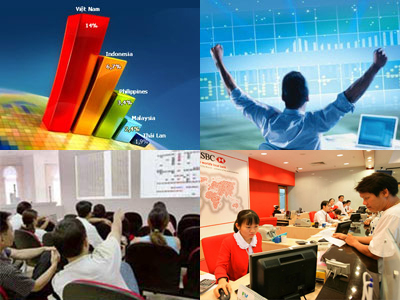 The year 2009 marks success of foreign banks in Việt Nam – Illustration photo

Since Việt Nam opened its banking sector for outside players, foreign banks have played an increasingly important role in attracting investment here.

So far, 45 branches of foreign banks were licensed in the Southeast Asian country, including five foreign wholly owned banks, namely HSBC, Standard Chartered, ANZ, Shinhan và Hong Leong. In addition, over 50 representative offices of credit institutions are doing business here.

As of late October 2009, compared to the same period last year, foreign credit institutions mobilized a capital source 17.8% higher than 2008. The surges in the outstanding credit and the total property were 14% and 14.9% respectively. Their bad debts accounted for only 1% of the outstanding credit.

Meanwhile, pre-tax revenues of foreign bank branches were VND 2,612 billion, with higher capital mobilization and outstanding credit, up 17.8% and 10.8% respectively against late 2008. These banks dominate the domestic banking system in the areas of payment services and non-credit activities.

Over the past time, the representative offices of foreign banks have functioned as an important channel for foreign investment activities in Việt Nam. They have also helped their parent banks' clients to survey market and seek for partners in here.

They have significantly supported the State Bank of Việt Nam, domestic commercial banks and enterprises to train staff, hold seminars on law making, and introduce latest banking skills and practices.

In conclusion, foreign banks and credit institutions are enjoying favorable business climate and having wide opportunities to penetrate into Việt Nam's financial market.
Indicators for the performance of foreign banking organizations in Việt Nam, 2009

Capital mobilization

Outstanding credit

Total property

Pre-tax revenues

Bad debts

Credit institutions

17.8%

14%

14.9%

VND 2,947.5 bil.

1%

Bank branches

17.8%

10.8%

14%

VND 2,612 bil.

0,6%

Representative offices

18,2%

34,3%

18,3%

VND 477 bil.

1,8%